Restorative practice in the Junior hub
Kiaora te whanau
The Junior hub have been participating in 'Circle Time' once a week on a Friday morning. The purpose of Circle Time is to teach 'restorative behaviour'.
Restorative practice means to 'restore relationships in a the wake of wrongdoing or conflict'. The role of Circle Time is to help build relationships that the children consider worth restoring.
Circle Time helps children to 'tune in' to the way others may be feeling, share opinions, listen to other peoples point of view and generally help children to function successfully in  a variety of social settings. Circle Time can develop a more supportive class ethos, increase social and emotional skills for all and increases connectedness, resilience and well being.
Sounds pretty heavy doesn't it?! However, in context it is a fun way to work as a whole group to talk about how people, think, act and feel in a variety of settings.
There are fun ways to get everyone to engage and we talk to the children about it being a time to get to know everyone in our hub not just our friends. There are lots of opportunities to move to another seat and get to know someone different. The topics we have covered so far are 'inside and outside hurts' and 'intentional and on-purpose hurts'.
How to help at home:
Ask your child about circle time and what they learned about today.

Talk about feelings and name feelings: e.g. frustrated, angry, excited, proud, sad, hurt, annoyed, happy

Encourage children to name their feelings in a sentence using I statements e.g. 'When I get hurt I feel angry because I don't like that someone has pushed me over".
Our Special Circle time recipe
Everyone in our class:
Likes to have fun

Likes others to listen when they talk

Thinks it's important to listen when others talk

Likes to have happy feelings about themselves

Likes to have happy feelings about other people
So what does the bible say:
"Paul directly links "justice" with "salvation"—arguing that Jesus' faithfulness brought about healing of brokenness and alienation as a manifestation of God's justice.  "The justice of God" is all about restoring wholeness in relationships—with God and with other human beings". (Ted Grimsrud)
From the bible: Real wisdom, God's wisdom, begins with a holy life and is characterised by getting along with others. Is is gentle and reasonable, overflowing with mercy and blessings, not hot one day and cold the next, not two faced.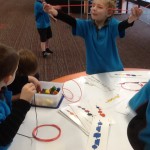 You can develop a healthy, robust community that lives right with God and enjoy its results only if you do the hard work of getting along with each other, treating each other with dignity and honour. James 3:16-18 (The Message)